Thank you for logging on to NCB's website. Please take some time to browse through our pages, which we trust you will find interesting and informative. Perhaps we can interest you in purchasing one of our CDs? All proceeds go to towards the ongoing work of the band.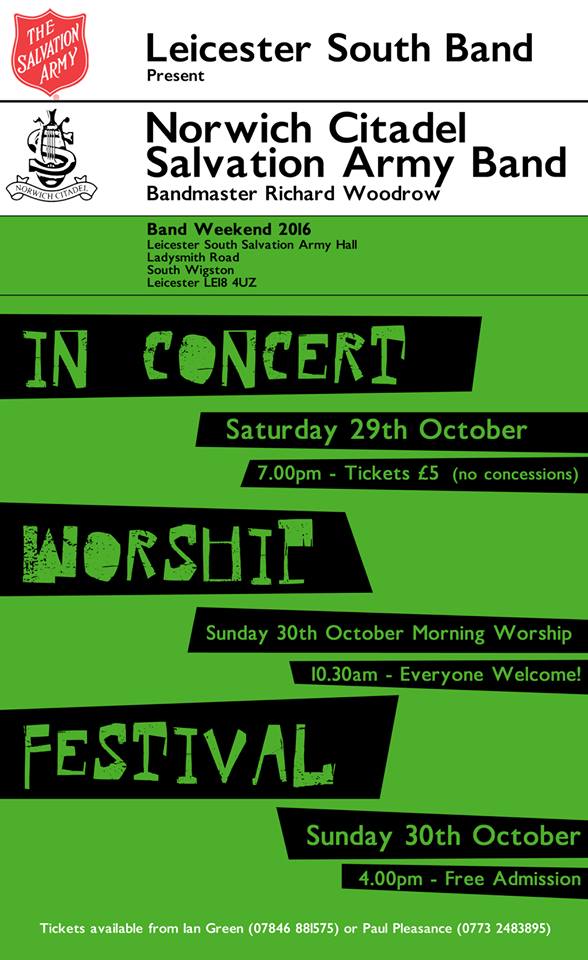 ---


Notes From The Bandroom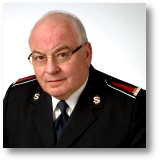 Michael Whybrow, NCB Secretary, Reporting
(Updated, 04th September, 2015)
Norwich Citadel Band took part '1966 and all that' was a special occasion marking 50 years since Norwich Citadel Band performed at London's Royal Albert Hall. The solo piece chosen was Eric Ball's masterpiece 'Song of Courage'. It hardly seems 50 years since that day in June 1966. Four bands were present for the occasion; the International Staff Band who played 'Resurgam', Chalk Farm Band who played Symphonic Variations - 'I know a Fount' and William Booth Memorial Halls Band, Nottingham playing 'Melodies of Dvořák' arranged by Ray Steadman-Allen. Massed items by all four bands present were 'Great and Glorious' written by George Marshall and the march 'The Conflict' written 103 years-ago by a young Bramwell Coles. NCB's performance dominated the programme and certainly put NCB on the map for many of those present who recall it as the single-most memorable piece of the evening.
A number of bandsmen present on 16 July 2016 who played in the 1966 Band under the leadership of Bandmaster John Gibson were: Doug Beattie, Charles King, Kelvin Mann, Eric Franklin, Royston Maynard, Alwyn Green, Frederick Mann, Michael Aldred, Reg Brightman, David Fowler, David Woodrow, Roger Woodrow, Brian Osborne and Chris Dann and of course our much revered John Gibson.
NCB played the first half of the concert with solos by David Winch (tenor horn) playing a solo written for him by Steven Ponsford entitled 'Air and Rondo for tenor horn and band' and Daniel Beattie (euphonium) playing 'Canaan's Land' by Peter Graham. Other music featured by NCB was 'Let there be Light' by Steven Ponsford and 'Deep River' arranged by William Broughton.
Whilst Song of Courage was the focal piece of the evening other pieces used during the programme featured music used at the Royal Albert Hall back in 1966 - Excerpts from I know a Fount and Melodies of Dvořák, the march The Conflict and Great and Glorious. For these pieces NCB were joined by Diss Band (Iain Sturgeon) and Norfolk Fellowship Brass (David Woodrow). NFB players represented corps from around Norfolk; Aylsham, Great Yarmouth, Lowestoft Citadel and Norwich Mile Cross, plus band reservists from Norwich Citadel. An interesting feature of the evening was an interview between Bandmaster Richard Woodrow and Bandmaster Gibson as well as other spoken items of historic interest from around 1966.
In early July the Band presented a concert at St Edmunds Church, Acle. It was a third visit to this lovely medieval Norfolk church and our reception was enthusiastic, particularly as we performed 'Song of Courage' - a first time playing out in readiness for the following week.
On 3 June at was the 134th Corps Anniversary Weekend with Majors Stuart and Anne Crane, former soldiers at Norwich Citadel. It was nice to meet up with them both once again. Stuart was an enthusiastic bandsman in his time in Norwich.
Once again NCB supported the Civic Service at Norwich Cathedral playing a processional fanfare as the new Lord Mayor entered the Cathedral by the great west door. NCB also joined with the organ in accompanying the hymns.
On 22 May a group of bandsmen travelled to Furze Hill, the SA care home in North Walsham to play music celebrating the 95th birthday of Ray Harvey, former Bb bass player and band sergeant.
May God bless you all,
Michael Whybrow, Secretary
---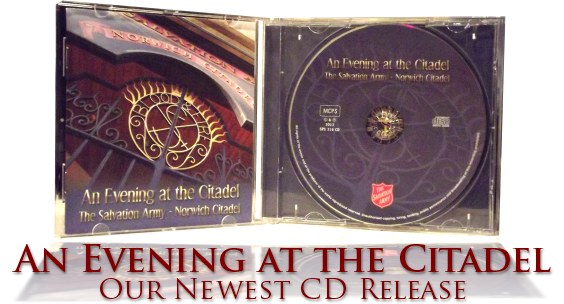 In our latest recording, in an age where evening worship is perhaps less common than it used to be, was to produce a collection of music you might expect to hear if you had spent an evening worshipping at The Salvation Army. The content has been carefully chosen to reflect the weekly participation in worship of the music groups at Norwich Citadel, and we hope you will be inspired and brought closer to God by our music and by the interspersed spoken contributions by Alison Gibson.
Click here to purchase or listen to sample tracks. Online purchase of CD is just £13.95, plus postage & packing.
---