Thank you for logging on to NCB's website. Please take some time to browse through our pages, which we trust you will find interesting and informative. Perhaps we can interest you in purchasing one of our CDs? All proceeds go to towards the ongoing work of the band.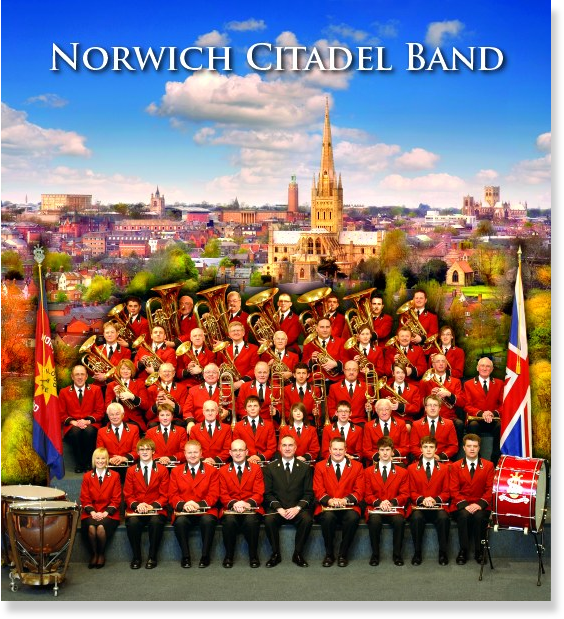 ---


Notes From The Bandroom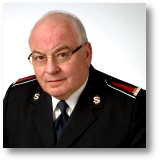 Michael Whybrow, NCB Secretary, Reporting

(Updated, 21st November, 2015)
Norwich Citadel Band took part in a service of remembrance for Edith Cavell, executed by the Germans for helping prisoners to escape from Belgium during the First World War. This year being the centenary of this occasion, there were representatives from other countries as well as dignitaries at her graveside within the Norwich Cathedral grounds.

A few days later the Band again took a prominent role leading the ex-service men, members of the Royal British Legion and RAF Marham together with other service personnel at Norwich's War Memorial in front of City Hall on Remembrance Sunday. We also led the parade to Norwich Cathedral where they took part in accompanying hymns during the service which followed.

The past few weeks have been busy for NCB. Most recently we travelled to Boscombe Corps (in Bournemouth) on 14/15 November. A highlight of our year, Lt-Col Ramsay Caffull has kindly provided a report of the weekend which has also been submitted to 'SA Bandsman' and the 'Salvationist':

As Norwich Citadel Band took their places on the platform on the Saturday evening of their week-end visit to Boscombe Corps, it was apparent that that there was a strong element of youthful talent within the group. As the festivals and meetings proceeded not only was that talent expressed in the band's musicianship but also through testimonies and prayers. Following the playing of James Curnow's 'Hallelujah' and John Gibson's arrangement of 'David of the White Rock', Bandmaster Richard Woodrow said, 'We are here to proclaim the gospel of Jesus Christ', which is exactly what they did.

The Saturday evening programme was replete with music to suite every taste, with excellent soloist contributions from David Winch in 'Air and Rondo for Tenor Horn and band' by Stephen Ponsford, and the Euphonium solo 'Canaan's Land' (Peter Graham) played by Daniel Beattie, which preceded a testimony from Matthew Peek. Two contrasting items in terms of their age were Eric Ball's 'Songs of the Morning' (thoroughly enjoyed by the listeners – particularly those of a certain age!) and 'Confrontations' by Dudley Bright, separated by over 300 Festival Series numbers!

James Morley sang 'Bring him home' from Les Miserables before the band played 'On High' by Martin Cordner and 'Prelude on Lavenham' (Geoffrey Nobes) which led into a Bible message from the band's Executive Officer, Major Richard Welch. The band then played Paul Sharman's 'Psalm of Thanks' before former Bandmaster Ron Young was invited to conduct the final item, the march 'Norwich Citadel' (Albert Drury).

Sunday morning's worship meeting contained a very moving testimony by Daniel Beattie. Helpful contributions were made by the Corps young people's sections, and James Curnow's 'Guardian of our Way' introduced the Bible message from Major Welch who invited the congregation to 'Follow the Good Shepherd, who knows his sheep'.

The final meeting of a God-glorifying week-end included a slick rendering of 'Abundance' (Marcus Venables) and Martin Cordner's 'Celebrate and Sing' before two contrasting solos from Tom Carr (cornet) with Bill Himes' 'I'd rather have Jesus' and Mark Woodrow (Eb Bass) who played Phil Catelinet's arrangement of 'Introduction and Allegro Spiritoso' accompanied on the piano by Eloise Peek. Boscombe Songsters gave a lively rendition of 'God of my Praise' followed by 'The Magic Flute' (Michael Kenyon) from the band and the final soloist, James Morley (Trombone) who played 'Blessed Assurance' (arr. Bill Himes). 'In God's Presence' by Andrew Blyth preceded the Executive Officer's Bible message, with 'Christ is Alive' (Ken Downie) and 'The Call of the Gospel' (Martin Cordner) bringing to a fitting conclusion a week-end that the Bandmaster had promised, that of a proclamation of the gospel message.

Ramsay Caffull Lieut-Colonel

No sooner were we home than we commenced rehearsing music for the Christmas season which begins on Saturday 28 November with Carols in the City and continues for three more Saturdays.

NCB's own 'Joy to the World' Christmas Concert on Sunday 6 December is an admission-free event in aid of the East Anglian Air Ambulance. Do come along and support this most worthwhile cause and enjoy some good Christmas music.

Our annual visit to Brasted's (private event), HM Prison Norwich, and three care homes (including the SA's Furze Hill in North Walsham to play to Band Reservist Ray Harvey on Thursday 10 December) are also on our engagement list.

Other Christmas events with the Band are at St Peter Mancroft on Wednesday 16 December and Little Melton Church on the same evening. St Andrew's Church Gorleston is the venue for a Christmas concert on Tuesday 22 December.

Finally, plans are being finalized for a live broadcast on Christmas Eve by BBC Radio Norfolk for NCB to play carol requests between 10:00am and 12:00 midday on the Nick Conrad show.

We appreciate your support for the Band during our busy season as we undertake to bring the message of Christ's birth to the people of Norwich and Norfolk. God bless you all and have a Happy Christmas.

May God bless you all,

Michael Whybrow, Secretary
---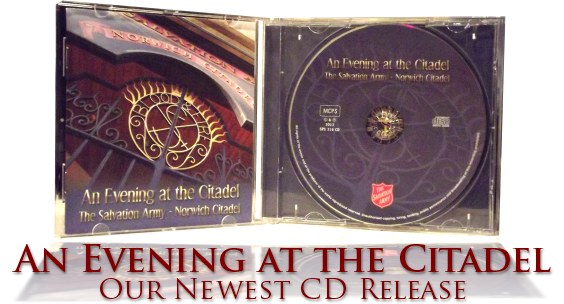 In our latest recording, in an age where evening worship is perhaps less common than it used to be, was to produce a collection of music you might expect to hear if you had spent an evening worshipping at The Salvation Army. The content has been carefully chosen to reflect the weekly participation in worship of the music groups at Norwich Citadel, and we hope you will be inspired and brought closer to God by our music and by the interspersed spoken contributions by Alison Gibson.
Click here to purchase or listen to sample tracks. Online purchase of CD is just £13.95, plus postage & packing.
---